Shipyard Services
We offer a full range of services to help you get any job done. Have materials delivered, store them in our laydown space, and load them onto a barge with our crane-accessible headwalls. During every step of your journey, we've got you covered.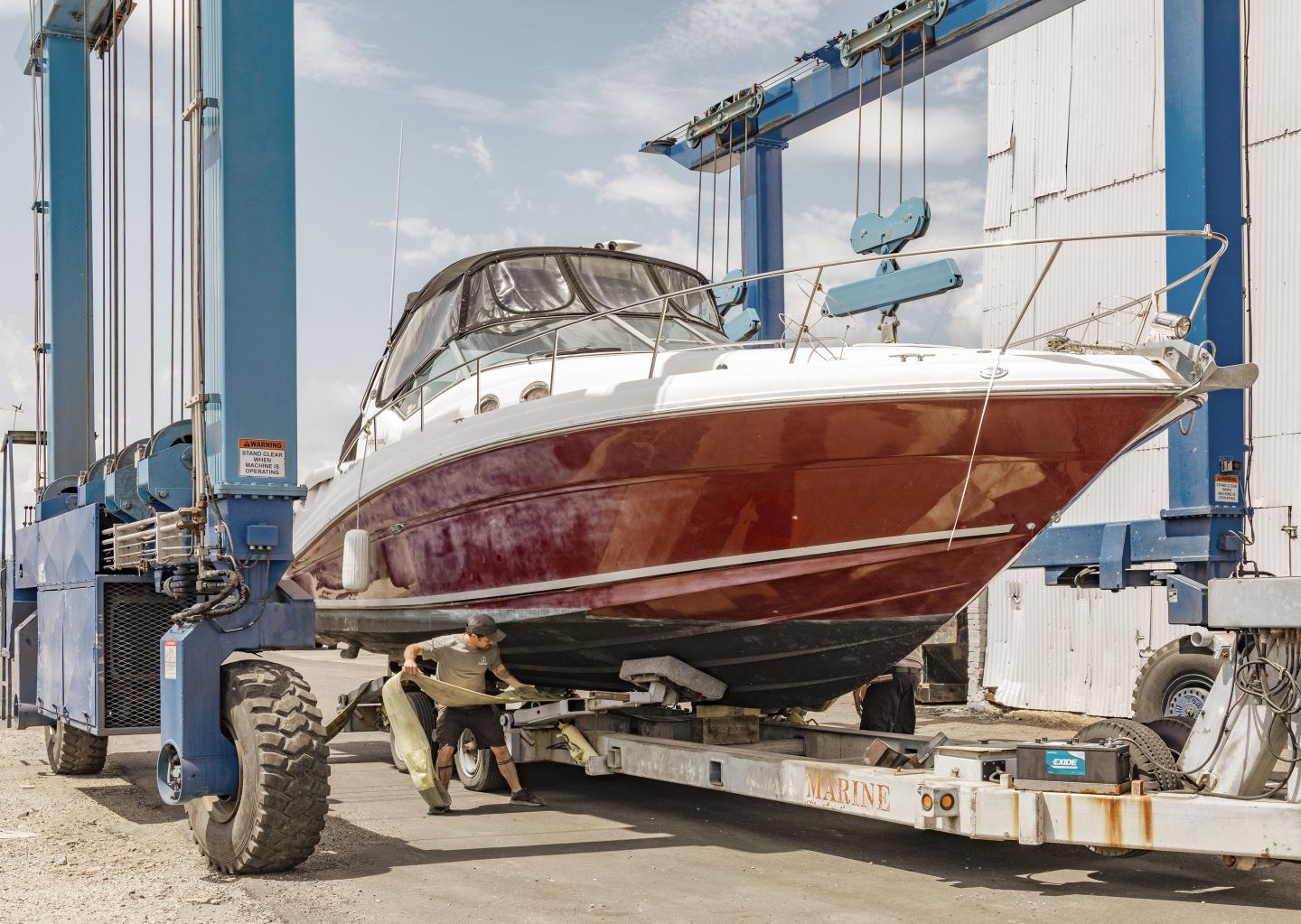 Trucking
Oversized truck accessibility and close proximity to truck routes offer direct shipping options and convenient access to Boston's major highways and Logan Airport .1 mile away from 1A and I-90.
Commercial Dockage
We offer short- and long-term dockage for commercial boats of all sizes. Pier 5 has slips for commercial vessels up to 50 feet, ideal for small dive boats, fishing vessels, or other workboats.
Ship and barge dockage is available on piers 2, 3, and 5 including optional power and water hook-ups. Over 3,000 linear feet of pier berthing which allows for easy vehicle and truck access. In addition to vehicle access, there is ample laydown space on the commercial piers at Boston Harbor Shipyard and Marina.
Laydown
Ample laydown area for short- and long-term storage of equipment, materials, and project staging. Areas can be tailored to specific sizes and locations based on unique project needs, like waterfront laydown with headwall access and direct deepwater access with heavylift capabilities on headwall. Commercial laydown is available on our piers.
Fueling
Marine fuelling on-site offered by Harbor Fuels, with two fuel docks on-site that features high-speed pumps for marine gas and diesel. An outer fuel dock can accommodate large commercial vessels while a 10k gallon fuel barge allows for mobile, in-slip fuel delivery to marinas across Boston Harbor. 89 Octane, Diesel, and Jet A Fuel options are available across the board.
CRANE ACCESSIBILITY
Space is available at the shipyard for large cranes. The headwalls at Boston Harbor Shipyard and Marina are capable of heavy lift crane access. The headwalls are accessible via barge as well. 
Shipyard Rates 
Forklift (Operator mandatory)
$220/hr with operator
|   | Double Load | 20+ Tons |
| --- | --- | --- |
| Boat Move | $11.00/ft. |   |
| Haul | $22.00/ft. |   |
| Haul for survey & launch | $14.50/ft. | $20.00/ft. |
| Haul to launch from trailer | $13.50/ft. |   |
| Haul, block & launch | $24.50/ft. | $27.50/ft. |
| Haul, blocks & stands | $13.00/ft. | $14.50/ft. |
| Launch | $22.00/ft. |   |
| Launch from blocks & stands | $13.00/ft. | $14.50/ft. |
| Lay day | $2.50/ft. |   |
| Lay day 50+ ft. | $3.50/ft. |   |
| Pressure Wash | $5.00/ft. |   |
| Emergency Haul | $90.00/ft. |   |
An environmental fee of 2.5% will be added to all invoices.
BOAT SERVICE PROVIDERS
FUEL DOCK - Harbor Fuels
BOAT MAINTENANCE, REPAIR, CLEANING - LV Marine Services, Boston Yacht Services
DIVE SERVICE - Boston Scuba
WATER TAXI - Red Top Boats, Boston Harbor City Cruises
SEA TOW - Sea Tow Boston
PUMP OUT - Clean Harbor Club
Boat Storage
Security, shore power, water, and more. Store your vessel safely and with all the amenities you want and need, whether it's on land or in the water.